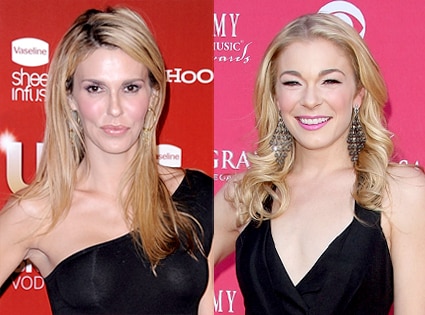 After duking it out over Twitter (and in the press) the past year and a half—ever since the country songbird romanced Glanville's then-hubby, Eddie Cibrian—Rimes and Glanville have mutually agreed to stop the sniping and get on with their lives.
That's the company line.
"As a collective unit, Brandi and I would like all negativity to cease toward one another," tweeted the "Something's Gotta Give" singer, who is now engaged to Cibrian now that she divorced her hubby of seven years, Dean Sheremet and Cibrian has divorced Glanville.
Rimes went on: "We have communicated and have a direct understanding that we are ONLY ourselves on Twitter and have no other accounts that try to destroy one another. Please for our families' sake stop the hate now and let us live OUR lives. We don't need opinions or outside help in order for that to happen. Thanks, LeAnn and Brandi."
The statement was subsequently retweeted by Glanville.
(Don't you just love it when sworn enemines bash their Twitter followers for harsh comments they made themselves during this ordeal? We thought so.)
The announcement comes after rumors the 28-year-old Grammy winner had created another Twitter account simply to harass the 37-year-old make-up artist after Glanville repeatedly slammed Rimes on Twitter and in the press.
After the Northern Lights costars revealed their intentions to marry, Glanville reached out to LeAnn and Eddie to have a civil discussion about how to move forward in the best interest of Glanville and Cibrian's two sons, Mason, 7, and Jake, 3.
Reps for Rimes and Glanville could not be reached for comment. But glad to hear they worked things out.