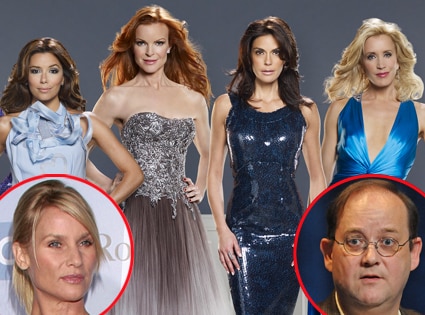 ABC/FLORIAN SCHNEIDER; Paul Fenton/Getty Images; Kevin Parry/Getty Images
Theirs is the kind of storied tempestuous creator/star relationship that's destined for the history books.
But could Nicollette Sheridan and Marc Cherry be willing to put their differences—both personal and legal—aside for the sake of ratings cold hard cash art and reunite for the final season of Desperate Housewives?
We can certainly see why the rumor gained traction—after all, it was just days ago that Cherry announced during his TCA panel, "I have an idea for the last episode in which I want to pay homage to everyone who's been there before and been on the show."Which would, of course, include Sheridan's Edie. But could it really be true? Did these two warring Wisteria Lane titans really call a truce or is this rumor just getting desperate? Hang on to that subpoena, because this rumor is…
So false! At least for now. But seeing as how the finale episode is at least a half year away from being shot, it could be ample enough time for hot heads to cool down and prevail.
But they haven't yet.
In fact, just yesterday, Sheridan sat down with the
Today
show and the conversation, naturally, turned to
Desperate Housewives
, which is about to enter its eighth and, thanks to increasing salaries and decreasing ratings, final year. When asked about Cherry's recent remarks, and the likelihood of Nicollette returning to film a few parting scenes with her character, she didn't mince her words.
"Well, that's news to me," she said of reports that producers were hoping she'd return for the final episode.
When pressed further and asked if she would reprise Edie Britt (who, incidentally, was brutally killed off in the fifth season) for the show's swan song, she replied:
"I had an amazing time playing that character and I loved her dearly, but they killed her, she's dead."
When further prompted by host
Kathie Lee Gifford
, who said she could always come back for a shower scene or emerge from one of those ultra-cliched dream sequences, Sheridan responded with a question of her own.
"Is this turning into a daytime soap opera?"
"In other words, she said no," Gifford screamed at guest cohost
Billy Bush
, who kept egging her on for a definitive answer. "I think she said no."
That's the gist we got, too.
However, just because Sheridan doesn't appear in the flesh doesn't mean she won't still be featured on the show's finale. When Cherry says that all the characters will get a tribute at the end of the season, we happen to believe him and think Kathie Lee may have been on to something with her suggestion of soap opera storylines.
Of course, we tend to think that a flashback—or flashforward, seeing as how they may be able to use another actress entirely—is a slightly more likely route than a dream sequence should Sheridan's cooperation continue apace (in other words, be nonexistent), but hey, you never know.