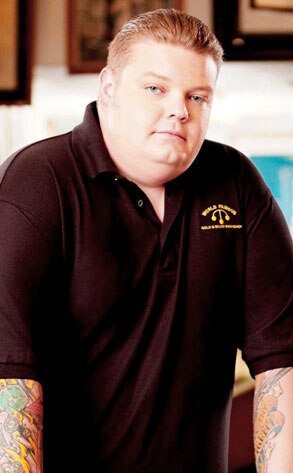 Maybe he was haggling over a bar tab?
Corey Harrison, otherwise known as "Big Hoss" to fans of History Channel's popular reality series Pawn Stars, was arrested for battery Sunday night after apparently getting into a fight at a local Big Bear, Calif. watering hole.
Visit resort town then go to jail? Sounds like a bad trade to us.
Harrison, the grandson of Gold & Silver Pawn Shop patriarch Rick Harrison, was taken into custody on charges of battery and obstruction, both misdemeanors, a spokesperson for the San Bernadino Police Department tells E! News.
"He got into a verbal argument and the security guard saw it escalating," said the spokesperson. "A deputy was in the area and was flagged down by security."
The Sheriff's Department tells E! News while security and the deputy were trying to get control of the situation, Harrison pushed the security guard and the deputy. The Las Vegas native was found to be under the influence of alcohol.
"He was arrested and taken to jail and held until he was able to care for himself," said the spokesperson. After several hours in a Big Bear pokey, Harrison was cited and released without bail at approximately 8 a.m.
"He was cooperative and apologetic this morning," the spokesperson adds.
No word yet on a court date, but Big Hoss will have to return to San Bernardino County to answer the charges. Once the police report is complete it will be sent to the D.A. who will ultimately decide what Harrison is charged with.
The History Channel so far have not returned calls for comment.
Before getting into the tiff, Harrison confirmed plans to pay a visit to the area in a tweet on Saturday: "24in of snow in Big Bear tomorrow im on my way as we speak and this i phone hot spot up grade is the s—t."