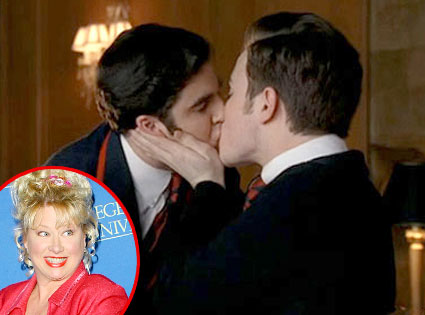 Fox; Michael Tran/FilmMagic
Even the most die-hard Gleek had to admit the Foo Fighters had a point. So, too, did the Kings of Leon. But Victoria Jackson? We're pretty sure even the most avowed Glee hater would disagree with her.
The onetime Saturday Night Live player turned arch-conservative, logic-averse blogger unleashed a torrent of pent-up homophobia and general across-the-board hate last Friday, calling out any number of supposedly traditional American principles, with the biggest perpetrator in her eyes apparently being the Fox megahit.
And you'll never guess why! Actually, this being from a self-styled Tea Party pundit, you'll definitely guess why—the long-anticipated Kurt-Blaine liplock.
"Did you see Glee this week?" Jackson wrote, referring to the kiss. "Sickening! And, besides shoving the gay thing down our throats, they made a mockery of Christians—again! I wonder what their agenda is? Hey, producers of Glee—what's your agenda? One-way tolerance?"
If so, they could no doubt take a lesson from Jackson, who spent most of the article proving just how intolerant she is, steadfastly refusing to tolerate "progressives, communists, liberals, globalists and Muslims," all of whom she claimed are in the midst of a "bloody" battle to determine which of them can destroy America first.
She also pulled a Bill O'Reilly by declaring that Muslims "kill people" (Whoopi and Joy are gonna be pissed), insulted President Obama, quoted the ever estimable Glenn Beck and wrote out a fictional and highly insulting scene that imagines Katie Couric fawning over al-Qaida's new women's magazine while simultaneously expressing excitement at the prospect of raising her grandchild to be a suicide bomber.
It was the latter rant, oddly enough, that led into her criticism of Glee.
"This new al-Qaida magazine for women has beauty tips and suicide-bomber tips!" she wrote. "Gimme a break! That is as ridiculous as two men kissing on the mouth! And I don't care what is politically correct. Everyone knows that two men on a wedding cake is a comedy skit, not an 'alternate lifestyle'! There I said it! Ridiculous!"