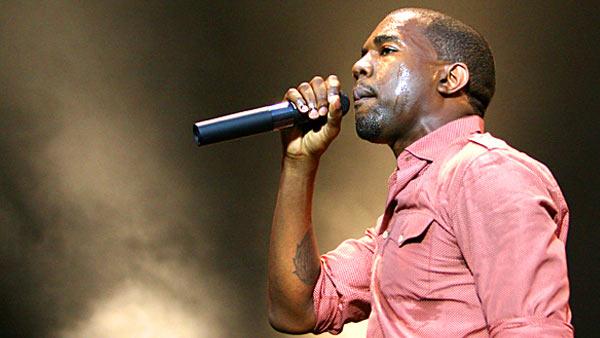 The 35-year old rapper, who is known for his outlandish and often revealing performances, took to the stage to get some things off his chest while crooning his new G.O.O.D. music song, "Clique." This time, he took aim at his peers in the music industry ... again.
"Taylor Swift beat Beyonce at the Grammys? Beyonce be dancing in heels and [expletive]," he said, according to
MTV News
.
In 2009, West caught flack for famously interrupting Swift's acceptance speech at the MTV Video Music Awards, hinting at the fact that he thought Beyonce should have won in the Best Female Video category. He later apologized, and Swift even sported a shirt from his clothing line in her March 2012 photo shoot for Australia's Harper's Bazaar.
The famed music producer,
who is expecting his first child with Kim Kardashian
, also talked about a new topic - his friend Jay-Z, who sometimes goes by Hov, and his collaboration with Justin Timberlake.
"I got love for Hov, but I ain't [expletive] with that 'Suit & Tie,'" the rapper said. Jay-Z is featured on the song which marks Timberlake's long-awaited comeback, and the
pair performed the tune recently at the 55th annual Grammy Awards (See photo)
. "The Blueprint" rapper and Timberlake are also
set to embark on a nationwide tour which kicks off on July 17
.
In 2011, West and Jay-Z debuted their collaborative studio album, "Watch the Throne," and toured the album worldwide.
The rapper continued his performance with an improvised tune about corporations, going on to call out celebrities who earn money by using their likeness to sell drinks.
"Can I sell your drink for you please? So you can help me put on a better show," West said. In December 2012,
Beyonce announced her $50 million collaboration with beverage giant Pepsi
. The deal marks a multi-year promotional partnership, and will see the performer featured in print and in-store ads as well as her face displayed on Pepsi cans.
This isn't the first time that the famed rapper has used the stage as a platform to express his feelings. In 2010,
West expressed empathy for former President George W. Bush and sang about Swift
during a performance in New York.
"Everyone wants to use people and villainize people," West said at the Bowery Ballroom concert. "Even if you take the concept of George Bush, there is no leader in history that has been villainized in that way and didn't' get killed at war or commit suicide. So any man who lives through it deserves one moment of redemption."
In 2005, West drew criticism for saying that Bush "doesn't care about black people", while slamming the U.S. leader's handling of Hurricane Katrina in 2005. West said in a November interview on "The Today Show" that he was frustrated at the time and did not have the "grounds" to call Bush racist.