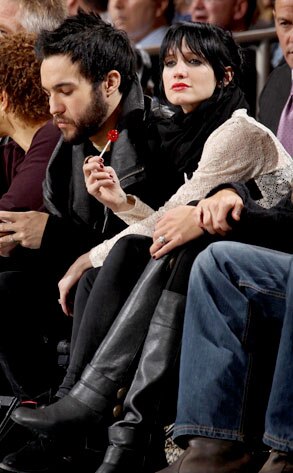 Courtesy of Nathaniel S. Butler/NBAE via Getty Images
Color us shocked: The Simpson sisters are currently 0-2 when it comes to marriages, but we really thought this one would last. This morning, Ashlee Simpson-Wentz and Pete Wentz shocked us all when they announced that after nearly three years of marriage—and two years of dating before that—they were going their separate ways. This, despite an apparently healthy Twitter relationship and regular tandem outings with their son.
So what happened? The party line is…nothing. But something had to give, and we're digging deep into the archive to find out what. Here's how it all went down:
September 2006: Fresh from a break from former bandmate Braxton Olita, Ashlee (then Simpson) hit up the hipster-magnet MisShapes Labor Day party in New York City with sister Jessica. While there, she stuck to Pete like glue, as the duo was caught "making out," downing shots and dirty dancing. A star couple is born!
September 2007: Honeymoon's over! But in a good way. After cuddling their way through the MTV Video Music Awards, Wentz told People, "We're past the honeymoon period. The truth is, it's crazy to be able to kiss your best friend. It's just a really awesome thing." Papa Joe also publicly gives his seal of approval over the coupling, telling the mag, "He's a good kid."
February 2008: Speculation begins that the couple is engaged after Ashlee is spotted wearing a diamond on her ring finger. She denies it on a technicality, announcing on Fuse TV, "It's a promise ring. It just means that he hasn't asked my dad yet."
April 2008: He asked! In a message posted to Pete's Website, friendsorenemies.com, Ashlee announced their betrothal. "We know there has been a lot of speculation recently about Pete and I, and we wanted our fans to be the first to know, because you guys are the best. Yes, we are thrilled to share that we are happily engaged."
April-May 2008: Ashlee is put on bumpwatch as speculation begins that she's pregnant. Neither side comments.