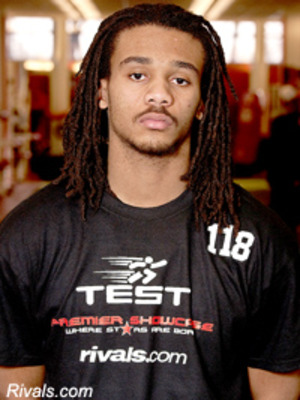 Ishaq Williams, one of the most dominant defensive stars in the Class of 2011, chose Notre Dame Friday, according to his high school.
ESPNChicago.com Colleges blog
Colleges blog The latest news and notes on the local college scene. Blog
Ranked the No. 29 high school football recruit and No. 6 defensive end by ESPN recruiting, the Brooklyn, N.Y., native opted for the Fighting Irish over Syracuse and Penn State.
Williams (6-foot-6, 220 pounds) postponed his announcement, which was originally scheduled for last weekend at the U.S. Army All-American Bowl in San Antonio, Texas. Instead, the Lincoln High stalwart was to take an official visit to Penn State this weekend before deciding. Persistence by the Irish staff and recruiter Bob Diaco paid off, nabbing a four-star talent -- the biggest defensive haul since Manti Te'o -- before he visited Happy Valley.
Registering six sacks for Lincoln in a Public Schools Athletic League title game loss to Fort Hamilton this past fall, Williams, expected to play outside linebacker, was a major target for Notre Dame and is expected to enroll this semester.
Irish fans continue to hold their breath as star defensive end Aaron Lynch (Island Coast, Fla.), who is on an official visit to South Bend this weekend, has yet to announce his plans.
Wes Morgan covers Notre Dame football for ESPNChicago.com.