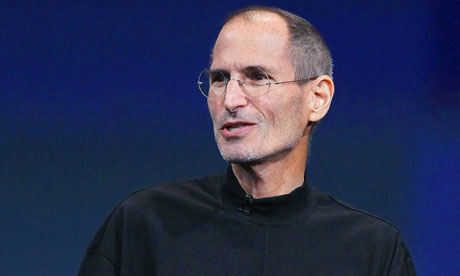 Steven P. Jobs, the co-founder and chief executive of Apple, is taking a medical leave of absence, a year and a half after his return from a liver transplant, raising questions about the future of the world's most valuable technology company. Mr. Jobs announced his leave on Monday in a letter to employees that said he was stepping aside "so I can focus on my health" but would continue to be involved in major strategic decisions at the company.
"I love Apple so much and hope to be back as soon as I can," Mr. Jobs wrote in the letter, which was made public by Apple.
As during his prior medical leave in 2009, Timothy D. Cook, the company's chief operating officer, will run day-to-day operations, Mr. Jobs said. "I have great confidence that Tim and the rest of the executive management team will do a terrific job executing the exciting plans we have in place for 2011," Mr. Jobs said in the message. Unlike his prior leave, when Apple said Mr. Jobs would be gone for six months, this time Mr. Jobs did not say how long he expected to be out. Analysts said the leave raised questions as to whether Mr. Jobs — who recovered from pancreatic cancer after surgery in 2004, but has continued to beset by health issues — would come back to lead Apple.
"It raises the bigger question about whether he'll ever return," said Toni Sacconaghi, an analyst with Sanford C. Bernstein & Company.
Perhaps more than any other chief executive, Mr. Jobs is seen as vital to his company's success. He is known for his hands-on management style and his obsessive attention to the most minute details of Apple's products. He is also credited with anticipating the needs of consumers time and again, leading Apple to create a string of groundbreaking products like the iPod, the iPhone and the iPad.
"He may the most vital C.E.O. of our era," said Michael Useem, a professor at the Wharton School at the University of Pennsylvania and director of its Center for Leadership and Change Management.
In January 2009, Mr. Jobs went on a medical leave. During the leave Mr. Jobs secretly flew to Tennessee for a liver transplant.
In June 2009, Apple said Mr. Jobs was back at work, and he reappeared in public for the first time in September of that year. While he was energetic and exhibited his unique brand of salesmanship as he unveiled new products during 90-minute event, he continued to look gaunt. Since then, Mr. Jobs has headlined a string of product introductions, including the iPhone 4 and the iPad and a new line of MacBook Air laptops, where he was equally energetic and focused, but still looked frail.
At one such event in July 2010, a reporter asked Mr. Jobs about his health, and he replied, "I'm feeling great."
In recent months, he has looked increasingly frail, according to people who have seen him.
During his prior leave of absence, Apple kept details of Mr. Jobs's health private, prompting criticism among some shareholders who contended that the company had an obligation to be more forthcoming with information.
In his message to the staff on Monday, Mr. Jobs said, "My family and I would deeply appreciate respect for our privacy."
Mr. Jobs suffers from immune system issues common with people who have received liver transplants and, as a result, his health suffers from frequent "ups and downs," according to a person with knowledge of the situation, who agreed to speak on condition of anonymity because he was not authorized to discuss it.
In recent weeks, Mr. Jobs began a down cycle and slowed his activities at Apple, the person said. Mr. Jobs has been coming to the office about two days a week, and appeared increasingly emaciated, the person said. He frequently lunched in his office, rather than in the company cafeteria, the person said.
An Apple spokeswoman, Katie Cotton, said Apple would have no further comment beyond Mr. Jobs's statement.
Apple's stock immediately dipped on foreign exchanges Monday, falling 6 percent in Germany. Financial markets in the United States are closed on Monday in observance of Martin Luther King's Birthday.
"It is natural that investors will expect the worse," said Charles Wolf, an analyst with Needham & Company, noting that Apple has a history of "minimal disclosure" and "obfuscating" details about Mr. Jobs's health.
Mr. Wolf said that regardless of whether Mr. Jobs returns to Apple, the company would probably continue doing well for the foreseeable future, though its long-term prospects are a matter of speculation. "Right now Apple has a management team that is one of the greatest in American business," Mr. Wolf said. "Whatever trajectory the company is on will continue for two to five years, regardless of whether Steve comes back."