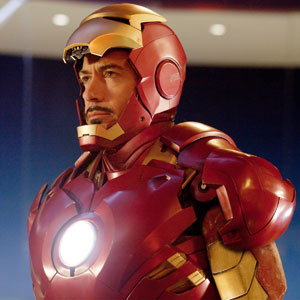 Robert Downey Jr. has it all figured out.
Or, he will, once he slips into the guise of defense attorney extraordinaire, Perry Mason.
The Iron Man star is looking to suit up—in a regular suit this time—as the brilliant lawyer in a Warner Bros. film based on the character created by novelist Erle Stanley Gardner and first played on TV by Raymond Burr, according to trade reports. Los Angeles—the birthplace of noir—and feature classic Perry Mason characters like his loyal secretary, Della Street; district attorney and frequent Mason nemesis Hamilton Burger; and private investigator Paul Drake.
A dozen actors have played Mason over the last 80 years on both the big and small screens, but, do you think it's safe to say that Downey will be the most sardonic, singular presence of the bunch?
Before he gets a chance to draw out confessions on the stand, though, Downey has to wrap production on The Avengers, his third outing as Tony "Iron Man" Stark (Iron Man 3, meanwhile, is penciled in for a May 2013 release). And before we get to see the fruits of that labor, Downey will be kicking arse and figuring things out the old old-fashioned way in what's becoming his other hit franchise, Sherlock Holmes: A Game of Shadows, in theaters Dec, 16.
In kinda related Iron Man news, former franchise helmer Jon Favreau is eyeing a proposed sitcom called Tweaked—about single parents navigating life and love—as his next directing venture.