2011 9:30 PM PST by
Natalie Finn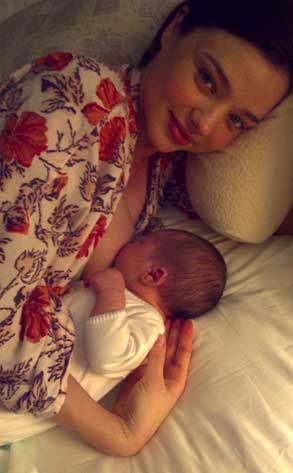 Orlando Bloom and Miranda Kerr's baby boy has really latched onto mommy.
Letting the world in on a very sweet moment between mother and child, Kerr debuted son Flynn Bloom on her blog today, posting a photo of her nursing her 2-week-old bundle of joy.
Kerr also filled us in on Flynn's arrival, which sounds a bit easier to believe than the painless birthing story fellow supermodel Gisele Bündchen told.
"I gave birth to him naturally; without any pain medication and it was a long, arduous and difficult labour, but Orlando was with me the whole time supporting and guiding me through it," Kerr wrote. "I could not have done it without him."
"We are so happy and are enjoying our time together as a family," she continued. "He is our little ray of sunshine. Thank you everyone for your beautiful well wishes and your lovely thoughts."
Flynn was born Jan. 6, weighing an impressive 9 pounds, 12 ounces. His parents tied the knot last summer after about three years together.